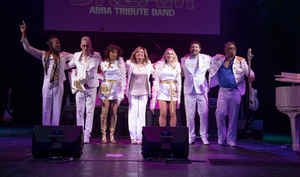 CASTING NOW FOR MAIN CHARACTERS & BACKING MUSICIANS

"DANCING DREAM - THE ABBA TRIBUTE BAND" is currently casting for all character roles as well as side players and backing musicians.
The cast roles require the look, sound and stage presence for their character. Full time and substitute/part time under-study professional roles are available. Side players/backing musicians include guitars, bass, keyboards, percussion and female and male vocalists.
If you are interested in becoming a part of the greatest ABBA Tribute production ever, please contact us here and please include your performance history, availability and attach a photo if possible:

Video, audio and other promotional material may also be mailed to:
Halina Ulatowski
DD PROMOTIONS LLC
PO Box 2058
Edison, NJ 08818